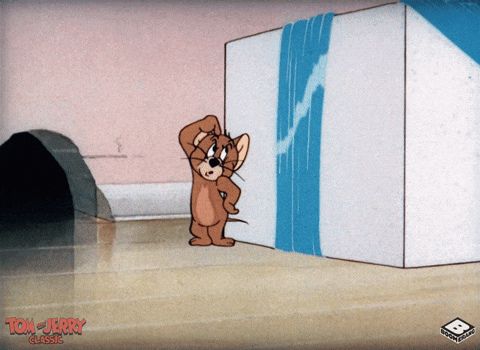 Since anecdotal evidence is beginning to support this blog's suggestion that pro-myelinating therapy might be beneficial in autism, particularly improving human adaptive behaviour, I will continue to highlight further supporting research.
Improving Jerry's Brain Myelination - Hard without Tom
Today's main paper shows how social intervention can also be used as a pro-myelinating therapy (in mice, like Jerry). I found the research interesting, but I think most parents would opt for a pill as a short cut.
The study looked at the effect of rearing an autistic mouse with social mice. The autistic mouse shares the myelin defects of autistic humans. The research interestingly shows that it is the social interaction only after weening that has an impact on myelination. So in the human equivalent of this research, it is not interactions with Mum/Mom that matter most, it is interactions with toddler peers. So make sure your toddler with autism hangs out with bubbly neuro-typical toddlers, or has bubbly neuro-typical assistants/ therapists/kindergarten teachers.
Autism spectrum disorder (ASD) is a neurodevelopmental disorder characterized by impaired social interaction, poor communication skills, and repetitive/restrictive behaviours. Recent studies have indicated that early rehabilitative intervention can alleviate the symptoms of individuals with ASD. However,

it remains unknown whether rehabilitative intervention can restore brain structures such as myelin, which generally shows abnormalities in individuals with ASD.

Therefore, in the present study, we used a mouse model of ASD (BTBR mice) that demonstrated asocial behaviours and hypomyelination in the medial prefrontal cortex (mPFC) to investigate whether interaction with social peers (C57BL/6J mice) has an effect on myelination.

We found that housing with C57BL/6J mice after weaning through adulthood increased the myelin thickness in mPFC, but not in the motor cortex, of BTBR mice.

There was no effect of cross-rearing with C57BL/6J mice on axon diameter in mPFC of BTBR mice.

This finding suggests that early rehabilitative intervention may alleviate myelin abnormalities in mPFC as well as clinical symptoms in individuals with ASD.
In the present study, we found that interaction with social peers, which has been shown to improve sociability (
Yang et al., 2011
), considerably influences myelination in the BTBR mouse model of ASD. This finding supports the theory that rehabilitative interventions can affect brain structures as well as brain functions in individuals with ASD.
Individuals with ASD who have received intensive early intervention demonstrate improved long-term outcomes, and the effectiveness depends on the age at intervention. Earlier interventions such as ABA lead to more substantial resolution of ASD symptoms (
Harris and Handleman, 2000
). Although the biological mechanisms underlying the effects of early intervention remain unclear, recent findings propose that myelination in the relevant brain regions is a potential factor.
First,

we found that BTBR mice exhibit thinner myelin in mPFC

, but not in the motor cortex, compared with C57BL/6J mice (
Fig. 1
a). This finding was
similar to those in postmortem brain studies of individuals with ASD
(
Zikopoulos and Barbas, 2010
). Because BTBR mice are generally considered genetic models of ASD (
McFarlane et al., 2008
), hypomyelination in mPFC could occur due to genetic mechanisms. The elevated expression of proinflammatory cytokines such as interleukin-6 in the brains of BTBR mice (
Wei et al., 2016
) may cause hypomyelination, as shown in our previous study (
Makinodan et al., 2016
). If so, myelin in the motor cortex of BTBR mice should also be thinner than that in the motor cortex of C57BL/6J mice.
Second, we found that

social interaction with C57BL6/J mice increased the myelin thickness in mPFC of BTBR mice

.
Given an increase in the social interaction of BTBR mice after cross-rearing with C57BL6/J mice (
Yang et al., 2011
), the restoration of myelination could be attributed to mPFC neuronal activities in relation to social interaction (
Yamamuro et al., 2017
), on the basis of findings that myelination is axonal activity-dependent (
Wake et al., 2011
). On the other hand, the alteration of social experience in the present study did not change myelination in the motor cortex, indicating that myelination in the motor cortex is independent of social experience.

Interestingly,

c

ross-fostering of BTBR mice with C57BL/6J mice during the neonatal period produced no significant effects on ASD-like behaviors

such as altered ultrasonic vocalization and repetitive behaviors (
Yang et al., 2007
), implying that social interaction with peers influences the symptoms of ASD more than the mother's care.
These findings are consistent with the denial of the "refrigerator mother" theory and higher contribution of nonshared environmental factors compared with that of shared environmental factors with regard to the development of ASD
(d) The cumulative probability curve of g-ratio; At P65, the mPFC myelin is thinner in the BTBR-only group than in the B6-only group (

P
≪
0.05).
After housing with C57BL/6J mice from P21 through P65, the mPFC myelin thickness has increased in the BTBR-mixed group
compared with that in the BTBR-only group (

P
≪
0.05).
A
fter housing with BTBR mice from P21 through P65, there is no change in mPFC myelination in the B6-only group (

P

> 0.05).
I should remind readers of the Bucharest Early Intervention Project

(BEIP); it was highlighted in the post below.

It was a long running study that included measurable brain damage/difference cause by childhood neglect.
The study showed that orphans placed in high quality foster care not only do better than peers left in the State orphanage, but you can actually measure difference using MRI imaging.
The study showed that poor treatment in the orphanage could produce autistic children.

This would not have surprised Kanner. It highlights a little publicized risk in adopting children from orphanages in poor countries.
Early Intervention for young children with severe autism
There are numerous different models proposed as therapy for kids with autism. One of the outliers is the Son Rise program. I remember going on a course in London 12 years ago to learn PECS (Picture Exchange Communication System) and the trainer clearly thought Son Rise was completely mad. I did employ a very broad interpretation of ABA in Monty's early therapy, we also included a large element of getting down on the floor (

à

la Floortime method) and be as "crazy" as him, which is really what Son Rise is all about; "enter his world" and draw him out of it. I still do this and if Monty has some new script he keeps repeating, I join in and soon he is asking me to stop scripting. I am not reinforcing his script, I am hijacking it and then he no longer uses it.
Doing the unexpected I found very beneficial as a means to diminish aggressive behaviour. I find the idea of social rehabilitation leading to biological rehabilitation very appealing.

It is also quite therapeutic for the adult. I think many parents just do not know what to do when faced with aggressive behaviours from their small offspring; one way or another, best to figure it out before he is bigger and stronger than you.
There is research that you can use to get an idea of how much clemastine you might need to promote myelination. I was forwarded some calculations based on the paper below.
I did skip to this chart below in the supplemental data to the paper, which shows what you want to know. One you get to 10nM concentration of clemastine things really start happening. Increasing the concentration by a factor of 100 only doubles the effect.
Recall that MBP = Myelin Basic Protein (more is good)
Then you have to convert 10nM into a human dosage in your blood.
From high school chemistry nM means nanomolar.
In practical terms, 1 to 2 mg once a day in the evening seems a pretty sensible dosage and well within the standard allergy dose.
"Cross rearing with social peers" from today's first study does have implications. I always thought it was a bit odd to combine multiple kids with severe autism in play activity, or social gatherings. I know lots of families with special needs kids hang out together. This might be better for the parents than the kids.
Hanging out with typical kids who are not in the slightest interested in a special needs kid does not work.
In kindergarten and primary school there usually is a constant supply of nice little girls who genuinely want to get involved with kids with severe autism. It repeats all around the world. It gets rarer after puberty, but even at 13 years old some girls are genuinely interested in social interactions with special people. Teenage boys really are not interested in including people with disabilities, unless they themselves are outsiders, like the gay ones (yes, I know that will upset somebody).

Girls are a safer bet.
The best way to "cross rear with social peers" is to have fun assistants at school. This works directly in the child being exposed to a fun bubbly person, but it also makes it much more likely that typical kids will want to join in.
In theory being a 1:1 assistant might be a good job for an Aspie, but having tried that for a year I can strongly suggest a lively enthusiastic young-at-heart NT assistant is the ideal. He/she also needs to be good at maths and science.